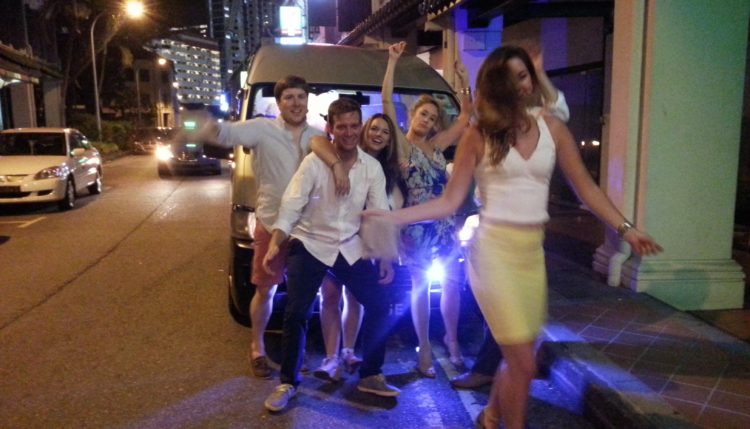 Bar Hopping Party Bus
Bar Hopping Party Bus, fantastic choice for going to clubbing with friends and travelling safe while enjoying in a partybus charter.
Singapore Pub Crawl or Bar Hopping Singapore : Get your ultimate guide to trendy drinking spots HERE by ExpatLiving.
Travelling privately with your group enjoying together that will creates fun and laughter.  Going to the next stop for a drinks with another clubs are something different atmosphere experience that you have to enjoy!
Call Our Bar Hop PartyBus Booking Hotline +65 93364142
Club Crawlers Partying Night Out
Bar Hopping Party Bus
Take a Bar Hopping Party Bus ride with your friends to hop around pubs and also clubs in the city. The disco likes party bus ride with your favorite musics is just like you are in a Discotheque.
Be it for their cocktails or the people around you, the specialties are totally different with one another. – Bar hopping party bus.
Bar hopping Singapore with lots of clubs and bars even restaurants are promoting their drinks specialties. Every Clubs, Pubs and Bars have their own specialties in drinks and cocktails, grab them and enjoy in the partybus charter.
Singapore Pub Crawl or Bar Hopping Singapore Party Bus Charter.
Book for our Bar Hop Party Bus that always be there nearby waiting for you.  While you enjoy your night in the clubs we'll be ready with-in 15 minutes to pick you to another club.
_________________________________________________________________________________________
PartyVan Singapore also provide Limousine Service Singapore. A fleet are from Maxi Cab Toyota Alphard Vellfire Limo, Mercedes Viano 7 Seater Taxi and also VIP Mini Bus Limo Service.
The maxi cab fares in Singapore, we guarantee an affordable cost and also reliable rates.
Book for  maxi cab Singapore from our maxi cab booking Singapore with Great Deals and Discounts for business or leisure.
For inquiry Call Our Mobile Hotline +65 93364142 or emai us: maxicab.limousine@gmail.com .